5 free things to do in Madrid
Newscred Madrid
Madrid isn't just the capital of Spain—it's one of Southern Europe's leading cultural, financial and culinary destinations. Famous for its world-class football team and artistic treasures, you'll never forget your stay in El Foro. Here are just some of the city's unmissable highlights.
Spain's national gallery is a feast for the eyes. From its elegant Neo-classical facade to the exquisite masterpieces inside, you may find repeat visits are needed to take it all in! Here you'll find the best collection of Spanish art in the world, as well as outstanding paintings from across Europe.
Next stop on Madrid's "art walk" is the Museo Reina Sofia. The lobby contains a vibrant glass extension next to 19th century hospital buildings, while Dali's surrealist masterpieces are a stone's throw from Guernica, Picasso's haunting anti-war mural. Get yourself an Art Walk Ticket to see Madrid's finest culture at a discount.
Home to one of the best football teams in Europe, Santiago Bernabeu offers fans a chance to tour Real Madrid's stadium. You can visit the museum, dressing rooms, coaching area and even the presidential box. Check in advance for the best times as you don't want your tour to clash with a big game.
El Retiro Park
El Retiro is a green oasis in the heart of Madrid. Walk down the luscious tree-lined paths, row a boat on the lake and take in the incredible Velázquez and Crystal palaces. You could even take a picnic of bocadillos de calamares, or fried squid sandwiches, which are a must-try delicacy in Madrid.
You don't expect to find ancient Egyptian temples in the heart of a cosmopolitan city. Yet Madrid's West Park contains an extraordinary relic of the 2nd century, donated to Spain in the 1960s. Visit in the late afternoon or early evening to see the buildings against a beautiful sunset before moving on to a restaurant for a delicious meal. Salud!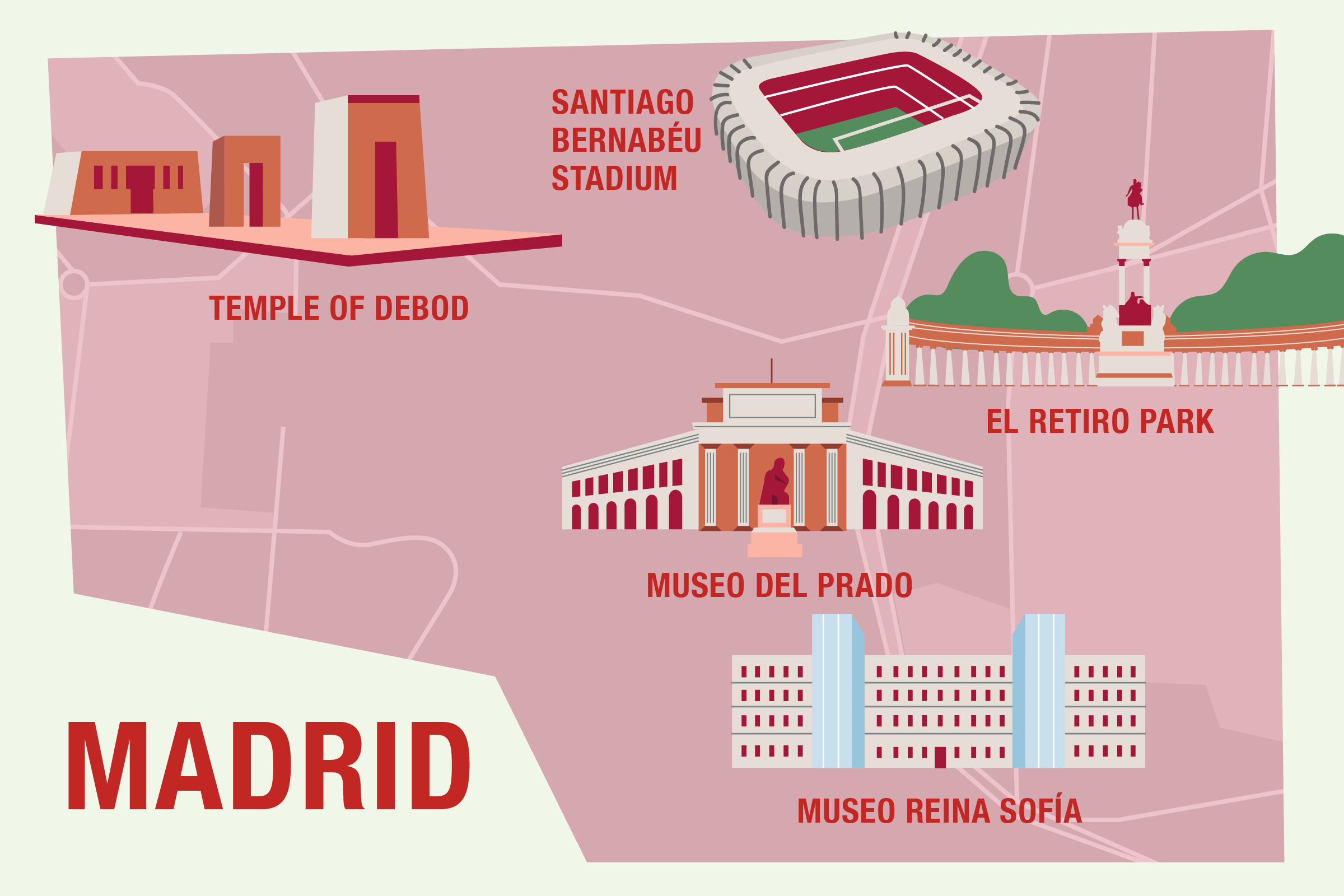 Check out more of our guides for free activities in major European cities:
Top 5 free things to do in London
Top 5 free things to do in Berlin
Top 5 free things to do in Copenhagen